Climate Restoration Forums over the years
First Annual Global Climate Restoration Forum: Introducing Climate Restoration
In September 2019, the staff of a fledgling organization called the Foundation for Climate Restoration (F4CR) held their breath as they prepared for the First Annual Global Climate Restoration Forum. Staff members had traveled to Manhattan for this first-of-its-kind event, which would be held at the United Nations Headquarters in the Trusteeship Council Chamber. The Forum was being hosted in partnership with the United Nations Office for Partnerships, and speakers included United Nations officials, venture capitalists, faith leaders, solution entrepreneurs, youth, and more. Over 600 people had RSVPed, but the question remained: Would people actually show up? Would the speakers provide compelling remarks that drove home the importance of climate restoration?
The 2019 Forum was a resounding success, with a packed room and buzzing energy. It paved the way for later conversations with UN Member State representatives, U.S. policymakers, youth activists and organizers, climate scientists, and more. Attendees left with a new sense of optimism about the future: a restored climate really is possible.
Second Annual Global Climate Restoration Forum: Climate Restoration Opportunities Across Sectors
The F4CR team started planning for the Second Annual Global Climate Restoration Forum soon after, but those plans, like so many others, were derailed by the COVID-19 pandemic. Reluctant to cancel an event that had generated so much enthusiasm and awareness, the event was moved online instead. With a virtual format, RSVPs increased from 600 in 2019 to over 800 in 2020. The audience became more global and diverse, and the speakers represented a broader spectrum of fields. What's more, the recordings of each session were viewed hundreds of times after the event concluded.
Third Annual Global Climate Restoration Forum: Sharing Global Progress Toward Climate Restoration
With the successful experience of a global virtual event in 2020, F4CR continued hosting its Forum online. In 2021, F4CR partnered with EarthxTV, which produced and distributed the event for their audience of tens of thousands. Like the two preceding years, the quality and caliber of speakers and sessions continued to improve. Attendees commented on how much they learned, the excitement that they felt and their desire to get involved in climate restoration.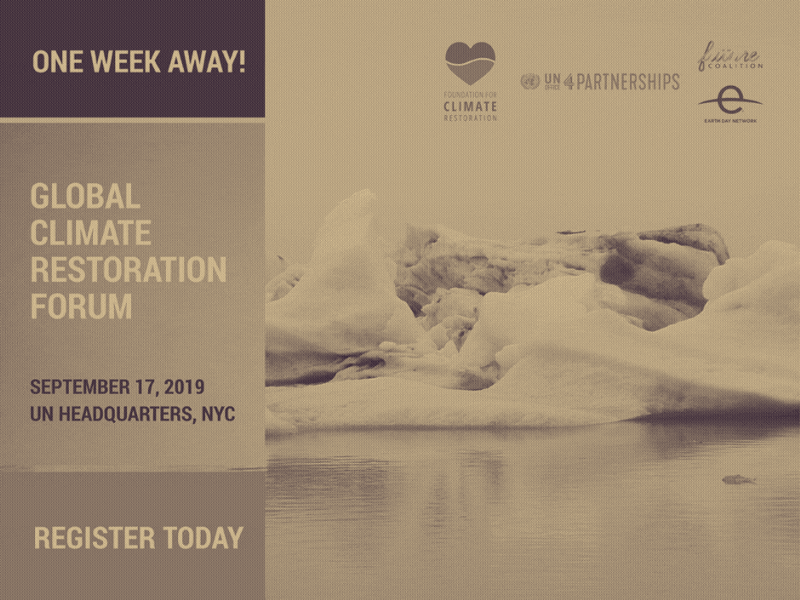 Fourth Annual Global Climate Restoration Forum: It's Time to Join the Climate Restoration Movement
Now, we're preparing for the Fourth Annual Global Climate Restoration Forum. The idea of climate restoration is no longer brand new or radical — it's becoming mainstream, with folks around the world asking, "How can I get involved?" F4CR is delighted to see people embracing the goal of a safe and healthy climate and continues to build pathways to engagement for anyone who wants to join.
This year, we'll hear from climate restoration activists, young and old, from all over the world and all walks of life. We'll delve deeply into relevant topics, like how we measure carbon removal and ensure that projects are having their intended impacts over time. We'll hear what F4CR has been developing over the past year and what is in the pipeline for the coming year.
This Fourth Forum is unique because it is riding on such incredible momentum from policy advancements, growing activism, exciting solution innovations, and more. The Forum will allow us to showcase more nuance and complexity in the world of climate restoration because our audience's level of sophistication has risen significantly. We can't wait to share this year's Forum with you. Register here.