F4CR at EarthX
By Kye Young, VP of Partnerships and Development
Last weekend, I had the opportunity to participate in this year's EarthX Convention in Dallas. Since 2011, EarthX has hosted annual events that represent the largest Earth Day gatherings in the U.S. These events create environmental awareness and invite the public to make sustainability a part of their everyday lives. The Expo allows businesses, government agencies, and nonprofits to showcase their initiatives and their positive impact on the environment.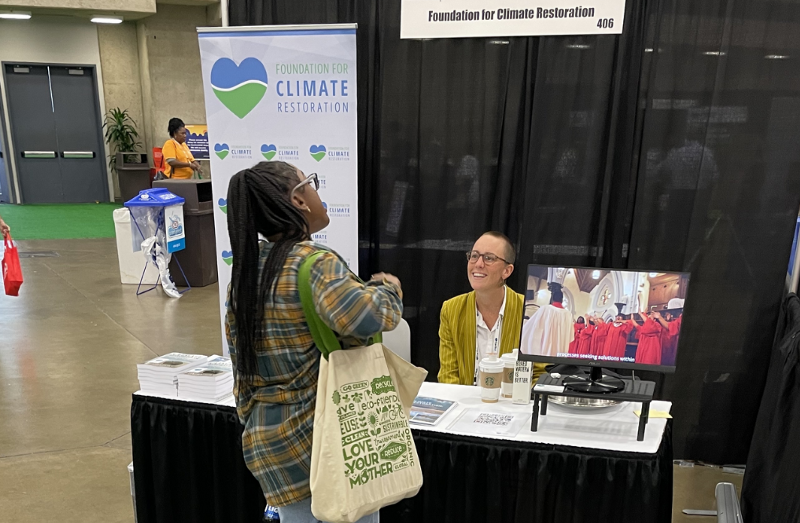 In addition to musical performances, innovative displays, panel discussions, and face painting for kids, the weekend was full of dynamic conversations and extensive networking opportunities. My top takeaway from the busy weekend was that we ARE restoring the climate.
The words "climate restoration" may not have always been mentioned, and the means by which we can return the planet to a healthy climate may differ, but it was very clear. Many people ARE working in many ways to restore the climate to healthy levels of carbon.
I was struck by the widespread understanding that we have far too much carbon dioxide in the atmosphere and need to work on bringing it down to safer levels as soon as possible.
With a primarily local audience, it is no surprise that natural solutions, including regenerative agriculture, reforestation, and coastal preservation, were shared as favored techniques to restore the climate. Notably, there was also some hesitancy around some of the technological solutions in development, but after discussion of testing, researching, and the undeniable need for guardrails, I found that many attendees left our Expo booth more informed about the broad array of solutions available to us.
I appreciated the opportunity to listen and speak to an audience of interested climate activists that brought unique personal stories to support their passion to reverse the negative impacts climate change has had on the planet. At the Foundation for Climate Restoration, we often discuss the need for inclusivity, diversity, and the centering of underrepresented communities, and EarthX helped uncover the areas we need to consider and improve upon.
Following a presentation from F4CR's Founder, Peter Fiekowsky, who discussed his new book, I met a lovely woman who was struck by the message of climate restoration. She equated learning about our movement to the joy of tending to her personal garden, where she revives the native plants and observes the local insects that inhabit her yard. She understands her backyard joy is her small part in restoring the natural world. After showing me pictures of her yard and her favorite bugs, she went on to share that this thriving yard is located at her new home — a home she established with her family after her previous home was destroyed by Hurricane Harvey. Her positivity and hope despite the most adverse circumstances really hit home for me. The natural disaster turned her life upside down, yet she still looks to the natural world to spark joy and bring restoration to her life.
Her story embodies what the climate restoration movement is all about: through positivity and individual action, we all have a role to play to restore the climate.
This weekend provided me an exceptional opportunity to engage with a large and passionate group that brought this important perspective to the discussion. It wasn't just local Dallas citizens that provided a view that the natural world is critical to climate restoration. Regional academics, local policymakers, international NGOs, and youth groups all shared their commitments to preserving and conserving the natural world, and they widely understood the promise and benefits of climate restoration.
I look forward to continuing to embrace conversations and learning about the many ways we can ensure that future generations on this planet thrive. I left the weekend recognizing that storytelling and unique perspectives are going to really advance our hopeful message and encourage more people to act in their own way. Together, we ARE restoring the planet.