From COP26 — We need to harness the momentum of CDR to restore our climate
–Rick Wayman, CEO, Foundation for Climate Restoration
The official proceedings at COP26 in Glasgow have seen some minor breakthroughs on significant issues such as methane, but as Kumi Naidoo suggested at the Global Carbon Removal Partnership (GCRP) launch, by and large, the negotiations have been the diplomatic equivalent of keeping a rapidly-sinking Titanic afloat by bailing out water one bucket at a time.
While some media and activists focus on reasons for despair — after all, this is the twenty-sixth annual Conference of Parties, with precious little tangible progress to show for it — after my first two days at COP26, I remain confident that we can restore our climate by 2050.
Is this just baseless idealism from the new guy? (I started with F4CR only a few weeks ago — see my first blog post). I don't think so, and here's why.
Carbon Dioxide Removal (CDR) has emerged as a significant pathway to restore the climate, unlike in years past. There is noticeable momentum to dealing with legacy carbon in the atmosphere TODAY and the industry's growth is noticeable. The most significant example perhaps was the launch of the Global Carbon Removal Partnership launched at a side event in the official "Blue Zone" at COP26. F4CR co-founded the Global Carbon Removal Task Force at the World Economic Forum in Davos in 2020, and I am so pleased to see it launch as a standalone entity with an influential multi-stakeholder participation and, I believe, great potential to succeed.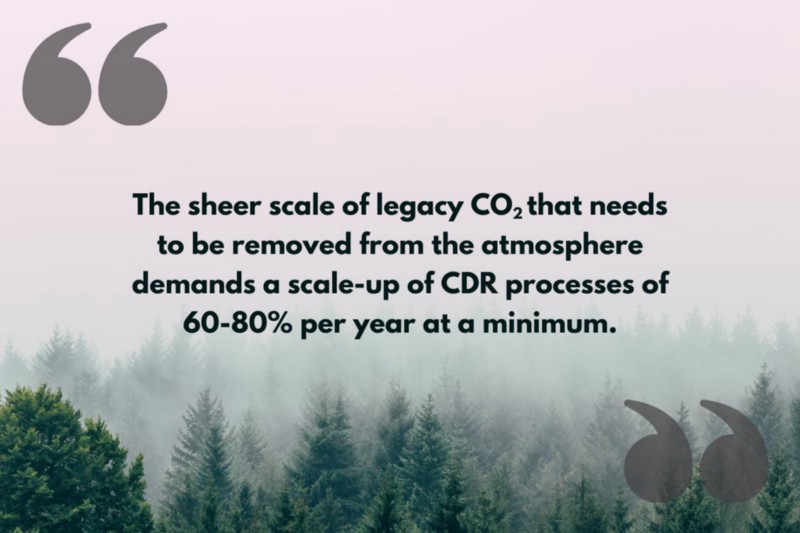 The partnership is led by Dr. Sanjeev Khagram, Dean of the Thunderbird School of Global Management at Arizona State University, and will be co-headquartered in Nairobi and Los Angeles. Both the Kenyan government and the City of Los Angeles have been important proponents of CDR. I am proud to see them setting a strong example for other local and national governments around the world.The private sector is also well-represented in the Partnership, with companies working on innovative technological and nature-based CDR solutions collaborating toward a common goal.
The Bellona Foundation hosted another CDR event in the Blue Zone on Monday.The panelists there posited (and I agree) that there is no time to wait. Solutions must be scaled up now, and improvements can be made along the way where necessary. The sheer scale of legacy CO2 that needs to be removed from the atmosphere demands a scale-up of CDR processes of, in the estimation of Christoph Beuttler, Head of Climate Policy at Climeworks, 60–80% per year at a minimum.
This CDR scale-up can be — and is being — advanced by diverse stakeholder groups. Cities are leading from the local level, demonstrating the viability of CDR and policy solutions that can then be scaled and replicated at the national and international levels. The private sector is raising the bar on climate commitments, pushing past "carbon-neutral by 2050" goals and providing the early-stage capital needed to scale the CDR sector. Microsoft was the first company to pledge to become carbon-negative by 2030, and a growing cadre of major corporations is following suit. Individuals are minimizing their own carbon footprints, demanding responsible climate practices from brands, and calling for more ambitious commitments from their government representatives.
Nations, corporations, and individuals absolutely must do everything in their power to eliminate CO2 emissions, and that remains the central message of this year's COP. But even if we hit the "net-zero" emissions goal today, we would still experience the astounding effects of climate chaos for decades to come due to the trillion tons of legacy CO2 that remain in the atmosphere. UNFCCC recognizes this reality and a small but increasing number of people are recognizing that there is no reason to delay action.
COP26 will likely wrap up at the end of this week with feeble (and at times misleadingly optimistic) declarations from some governments and lingering concerns about equity and access in the official COP process. I am heartened by the power of youth groups, the private sector, and civil society demanding seats at the table. And the fact that cities, countries, and companies are coming together to address the need for carbon dioxide removal allows me to leave Glasgow on Friday evening feeling confident about the future, though much more work remains to be done!