Going Grassroots for Giving Tuesday
Giving Tuesday, held every year on the Tuesday after Thanksgiving, is a worldwide philanthropy movement created in 2012 to inspire generosity and collaboration. This year, participants will celebrate Giving Tuesday on November 29th by giving how they can: donating money, participating in acts of service, or using their voice to bring attention to important local causes. For nonprofit organizations like the Foundation for Climate Restoration (F4CR), this global day of giving is a unique opportunity for us to engage with the people who make our work possible: our volunteers and donors.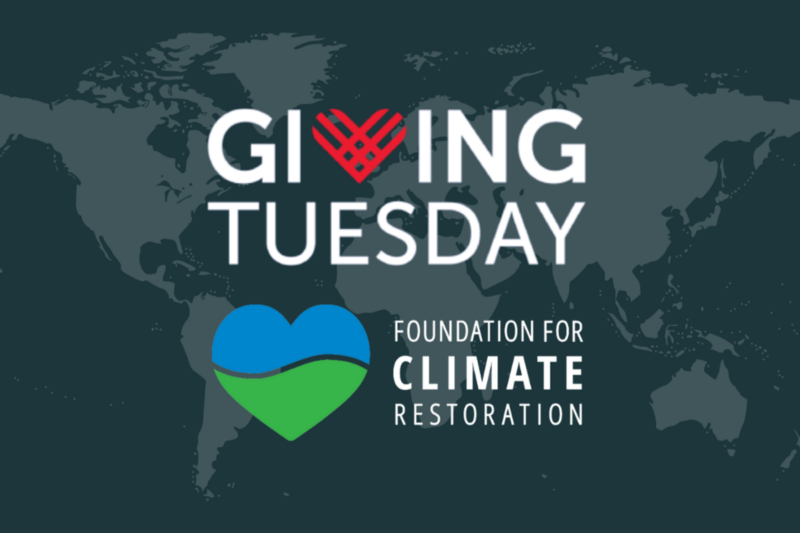 Giving Tuesday aligns directly with F4CR's mission to catalyze change and lead with a grassroots approach. Our dedication to both can be seen in the growth of our local chapter program. To achieve our goal of making climate restoration a reality, we rely on the generosity and action of people worldwide who are committed to advocating for greenhouse gas removal (GGR) and the solutions to achieve it. Members of our chapters educate the public, and their local lawmakers, on the need to remove greenhouse gases from the atmosphere. They are our boots on the ground and our loud voices in a crowded room–they are a vital part of our movement for change, and they make a difference daily.
With this in mind, we decided that for Giving Tuesday 2022, we would turn to our chapter members and let them work their magic in a new way. This year, our most dedicated volunteers will be reaching out to their networks and once again using their voices to bring attention to the potential to restore the climate. They will be performing acts of service by writing emails and letters, posting on social media, and sharing why they dedicate their time and energy to this cause. And they will be encouraging their friends and loved ones to donate and support our education and leadership work, so that we can continue to grow our movement. We're keeping it grassroots, and we're excited!
Care to join us? We'd love to hear your story. Why is restoring our climate important to you? What drives you to volunteer and/or support our work? Take a minute to think about it, and then share your thoughts with your networks–via email, Facebook, carrier pigeon — whatever you like. Get the word out, and help us grow our movement!