How can I personally contribute to climate restoration?
For most people, learning about climate restoration follows a pathway that looks something like this:
"How can I personally contribute?"
This blog post will focus on step four in the journey.
Let's start off with the bad news, shall we? Just to get it over with.
You, as an individual, can't fix the problem, and no amount of eco-friendly product swaps will have a meaningful impact on our climate.
But — and this is where it gets good — don't let that get you down.
Our collective power has always been more impactful than that of any individual. And the problem of climate change is bigger than anything we as humans have ever experienced. It makes sense, then, that the real opportunity to contribute to climate restoration comes from collective action. Here are a few ways you can channel your individual efforts towards effective collective action: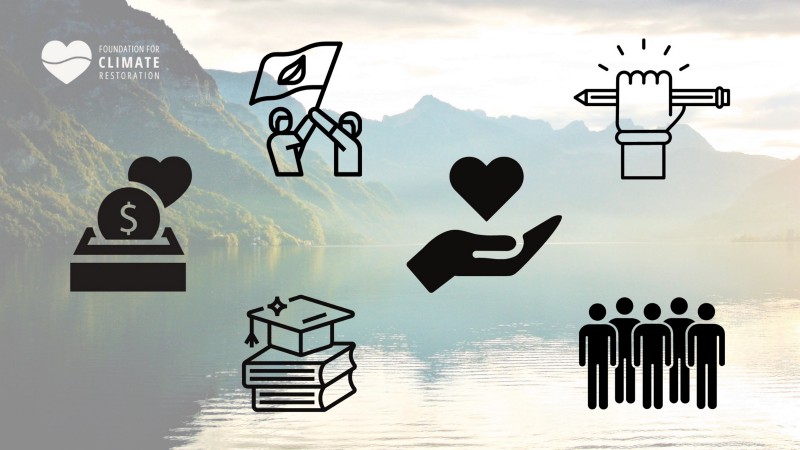 1. Join or start a local chapter
Advocacy is one of the best ways to advance climate restoration. It promotes education about climate change, the importance of climate restoration, and the concrete actions that policymakers can take to restore our climate. Working with a group of similarly motivated individuals towards advocacy goals can also promote a sense of community and optimism that is important for sustaining efforts to restore the climate. Reach out to the Foundation for Climate Restoration team to get connected to a local chapter near you or to start a new one.
2. Learn more about climate restoration, and encourage young people in your life to learn with you
Climate change can be especially scary to young people, who may not know as much about it and whose futures are most at stake due to climate change impacts. This fear can cause eco-anxiety, a chronic fear of environmental doom.
The Foundation for Climate Restoration offers a training program for young people aged 13–24 to learn, speak, and teach their peers about climate restoration, as well as an interactive digital lesson for kids aged 8–12. We'll also be releasing a Solution Series in early 2022 to delve more deeply into the solutions that can help restore the climate.
3. Donate
The Foundation for Climate Restoration is a 501(c)(3) public charity, which means that all the work we do depends on our community's support. Without donations, we wouldn't be able to host local chapters on four continents or support youth leaders on all six. We couldn't write white papers, or host Forums, or provide a platform for important conversations between climate restoration champions. Please consider supporting the Foundation financially if you, like us, are committed to restoring a safe and healthy climate.
4. Talk to everyone you know about climate restoration
While the concept of restoring the climate has moved much closer to the mainstream in recent years, most people still haven't heard of it. In fact, most people don't yet know that the problem of climate change will not be solved when we get to net-zero emissions. The way the climate restoration movement grows is through the conversations carried out by our community. So don't be afraid to tell your friends / family / neighbors / colleagues / babysitters / mayor, etc. about climate restoration. It makes a difference.