Report from the Third Annual Global Climate Restoration Forum
When the Foundation for Climate Restoration was founded in late 2017, we were committed to restoring the climate by facilitating the development of solutions that can safely and permanently remove huge quantities of CO2 from the atmosphere. However, we quickly realized that there's no shortage of solutions. While we still need more solutions and all of them require further development and scale-up, the real obstacle was creating the enabling environment needed for those solutions to be implemented and scaled. We recognized that we needed to adapt our theory of change to include a focus on creating this enabling environment — the climate restoration ecosystem.
In order to educate our audience about this new ecosystem and keep them apprised of its advances over time, we launched our annual Climate Restoration Forum.
First Annual Global Climate Restoration Forum: Climate restoration is a critical new pillar of our climate agenda.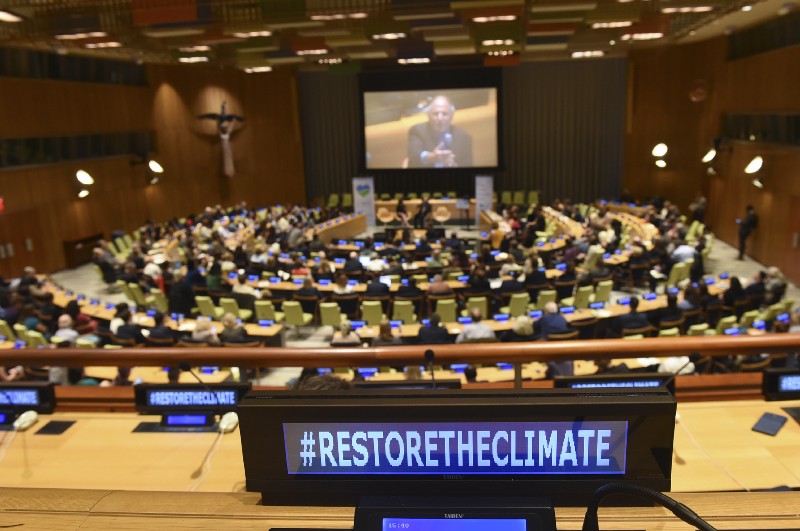 In 2019, F4CR was launched on the global stage through our First Annual Global Climate Restoration Forum, hosted in the Trusteeship Council Chamber at the United Nations Headquarters in New York. In attendance were dignitaries, faith leaders, climate scientists, carbon removal innovators, youth climate activists, investors, and more. The wide-ranging presentations underscored the importance of climate restoration as a new and critical theme in our global climate agenda.
Second Annual Climate Restoration Forum: Climate restoration is becoming widely adopted and is well underway.
In 2020, we continued the conversation virtually with our Second Annual Global Climate Restoration Forum. We brought together panels of experts on science, investment, movement-building, solutions, and more. Over 800 people attended online to learn from the sessions. The Forum highlighted the growing consensus that climate restoration is not only critical, but it's already underway, with visible progress across sectors.
Third Annual Climate Restoration Forum: Climate restoration is advancing rapidly across sectors.
Just a few short weeks ago, September 30-October 1, 2021, we hosted our Third Annual Global Climate Restoration Forum. As we were planning content for the Forum, we were astonished to see just how much progress had been made since the previous year. It was a challenge to scale back our content and speaker list to a quantity appropriate for a two-day virtual event — and even then, we had fourteen sessions and over 40 speakers! We were thrilled to work with EarthxTV, whose sponsorship of the event elevated our production and distribution quality to a new level. This year's Forum demonstrated the growing momentum behind the climate restoration movement across sectors.
If you missed this year's Climate Restoration Forum, don't worry — all the recordings are available online, and here's a little teaser.
A few notable quotes from luminary speakers:
"We see these three — climate mitigation, adaptation, and carbon removal / climate restoration — as working in tandem. One doesn't stop the other, and, on the contrary, they should be mutually reinforcing and sustaining and transformative." — Sanjeev Khagram, CEO, Director-General & Dean, Thunderbird School of Global Management, Welcome to the 2021 Climate Restoration Forum
"I realized that there's hope for the future of our earth, where primarily before the conversation around climate action was pessimistic. With climate restoration, we have turned the tables and are being proactive and actually taking action to restore our earth". — Ashley Meeky, Founder, Youth Leaders 4 Climate Restoration, Youth Lead the Way to Restore Our Climate
"Without withdrawing carbon from the atmosphere, it's going to be very difficult to reach the targets of net zero. It's going to be impossible." — Fredrik Ekström, President, Head of Nasdaq Stockholm, European Fixed Income and ESG, Market Watch: The Growth of the CO2 Removal Marketplace
"It's no longer a question of if we need carbon removal. Now it's more of a discussion of which solutions we want to pursue, how we want them to be implemented, where, who we want to be driving these solutions and many other important questions." — Vanessa Suarez, Senior Policy Advisor, Carbon180, Equity and Justice within Climate Restoration
"Once we become extinct as a species, the oceans will recover. The forest will grow back and so on. So don't worry about the planet too much. Understand that these climate negotiations are about protecting humanity's capability to continue to live on this planet. -Kumi Naidoo, Global Ambassador for Africans Rising for Justice, Peace and Dignity, Final Stop on the Road to Glasgow: COP 26
"Removing emissions though is like using a vacuum cleaner on your floor. It is a completely different thing than picking up the dirty dishes or sorting things in the cabinet. It's a different thing. It is taking CO2 out of the air and oceans after it has already entered them. It is the vector of climate restoration" — Julio Friedmann, Senior Research Scholar, Center on Global Energy Policy at Columbia University, Exploring Legislation to Accelerate Climate Restoration
"I was present when political leaders said to us, please continue to make life difficult for us to remind us of the necessity, to take measures that in the short run may contravene national self interest, but are necessary to preserve the earth. I've never forgotten it. This is the tremendous position of people, of faith, all over the world to remind the political leadership and everyone. And of course, ourselves as world citizens, that there is no time to lose." — Rabbi Soetendorp, President and Founder, Institute for Human Values, Igniting Faith for Climate Action
"The fact that climate is changing, isn't the end of the conversation, it's the beginning of, okay, so what do we do about it? This is a solvable problem. It's not snap our fingers and you know, it all gets done in six weeks. It's going to take a ton of work all over the place, that's obvious, but it's actionable. We can do it. Climate restoration is a key part of it in addition to adaptation and mitigation, reducing emissions as quickly as we can doing it equitably." — Marcius Extavour, VP, Energy & Climate, XPRIZE, Incentivizing Innovation in Carbon Removal