This Giving Tuesday, support youth leaders
— Kye Young, VP of Partnerships and Development
The holiday season is a time for reflection. It is a time to connect with our loved ones and ponder how we can contribute to making the world a better place. At the Foundation for Climate Restoration (F4CR), we're focusing this season on supporting the next generation of climate leaders. We are pursuing ways to increase opportunities for young people to become advocates for a future in which they feel secure.
Specifically on Giving Tuesday, we're fundraising to support our Youth Leaders for Climate Restoration (YL4CR) program to provide scholarships and internship stipends to outstanding young people around the world. Now is a critical time for action.
From November 6–12, I had the pleasure of representing F4CR at COP26 in Glasgow, along with our CEO Rick Wayman. On the long trek back from Glasgow through London to New York, I had a lot of time to contemplate the climate restoration movement and how our message penetrated the walls of the world's largest climate conference.
I have two significant takeaways:
First, the idea of restoring the climate by removing significant amounts of legacy carbon from the atmosphere is no longer a radical concept. In conversations with UN member state representatives, investors, multinational corporations, philanthropies, start-ups and academic institutions, I found that they all applaud our work and support our effort to mobilize further action to restore the climate. Beyond hearty support, the US Department of Energy's Carbon Negative Earthshots Initiative showed tangible evidence of policy support for climate restoration.
Second, the world's youth are not satisfied with the progress made at COP26. The commitments made by member states are not happening at the urgent pace that global youth advocates are demanding. The message was clear. Business as usual (or nominal tweaks to it) is not nearly good enough.
We have heeded the youth's call to engage deeper and to ramp up action; early this year, we launched the Youth Leaders 4 Climate Restoration (YL4CR) program. The youth-led train-the-trainer program provides opportunities for participants (ages 13–24) to receive quality climate restoration training, practice speaking on large platforms, and get leadership experience through teaching their peers. In the program's short existence, we have had over 540 applicants and participants from 36 countries and counting.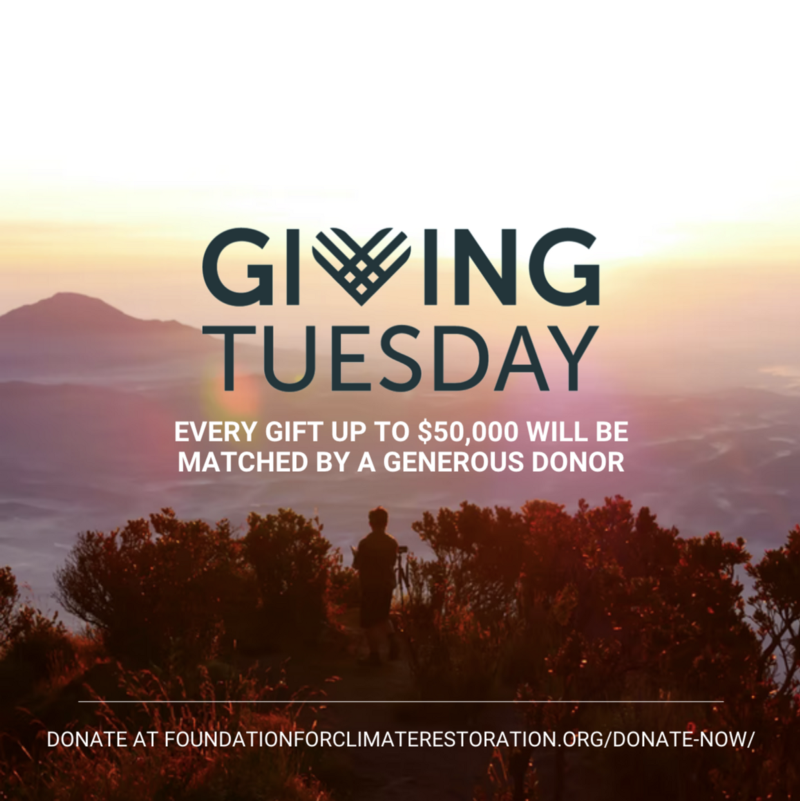 While there are no costs associated with participation in the program, we recognize that some highly motivated participants can make bigger and longer-term impacts with the help of a financial award. Our youth leaders are exceptionally diverse, coming from all six inhabited continents and varied educational and socioeconomic backgrounds. They are united by their commitment to our planet's health.
As program participants prepare themselves for professional careers, many need support in pursuing avenues that will allow them to continue contributing to climate restoration. Whether it is tuition assistance, support while they complete an internship or research project, or funding to launch a community organizing project, F4CR wants to do whatever we can to support them in building careers that ensure humanity thrives.
This is why we are focusing our Giving Tuesday campaign on supporting YL4CR. Giving Tuesday is an annual day of giving that unleashes the power of people and organizations to transform their communities and the world. In a season of consumption, it is a day reserved for supporting charity organizations making a difference.
This year it falls on Tuesday, November 30. Donations to this campaign will provide financial support for awards or internship stipends for our youth program participants in their climate restoration pursuits. Furthermore, every donation we receive will be matched up to $50,000, thanks to the generosity of an anonymous donor. It is a tremendous opportunity and we need your support. Please share this opportunity with your networks. We will be sharing tools and resources to help you get the word out to those in your circles. Know that the world's youth want a stronger voice in the climate fight and we are providing opportunities for them to leverage their passions to restore the climate.
Please consider supporting our Giving Tuesday initiative in any way you can and help us empower the next generation of climate leaders.
Here's to our youth.