Do you ever finish your workday wishing that there were more hours in the day…not just because you have more that you want to get done, but because you're so excited about what you're working on that you don't want to stop?
Do you ever wake up full of energy, enthusiastic to get back to your work?
We here at F4CR are bursting with anticipation for everything we have coming up in 2023. We don't want to spoil all of the headlines, but here's a sneak preview: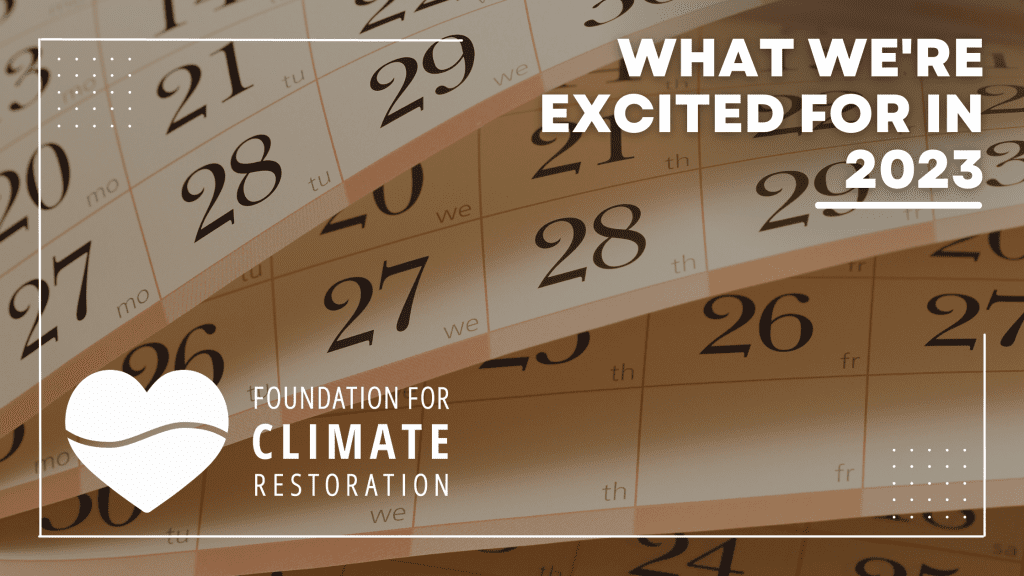 We're publishing a new climate restoration curriculum for high school students.
After the popularity of our Kids' Digital Lesson — among kids and adults alike — we decided to produce a self-guided digital course for high school students. This project has grown from a single course into a six-course curriculum; it has gone from an exclusive focus on environmental science to incorporating politics, social studies, history, and engineering; and it has expanded to suit a global, rather than solely US-based, audience.
We are really proud of this curriculum and want to see it used far and wide. Be sure to subscribe to our newsletter so you can sign up for the course once it goes live. If you work with high school students, or if you are one, let us know! We'd love your feedback as we finalize our materials.
We're releasing the final four solutions of our Solution Series.
We launched our popular Solution Series in April of 2022 during Earth Week. We had been hard at work on it for months beforehand, and we never could have imagined how many people would read our white papers, watch our videos, or attend our expert panel webinars. In December we celebrated the midpoint of the Series with a recap of what we've learned so far. Now, it's time to finish out the second half of the Series! In a few short months, we'll be gearing up to summarize what we've learned about CDR solutions and which ones show the most promise for restoring our climate.
Our local chapters are expanding in scale and scope.
As of the end of 2022, we have 43 local chapters with over 500 members in 19 countries around the world. Our incredible chapter members held 44 meetings with elected officials and got 5 of them to cosponsor the federal Carbon Dioxide Removal Leadership Act, H.R.7434.
But we're not done yet! In 2023 we aim to launch an additional 20 chapters worldwide. Have you joined your local chapter yet? Is there not yet a chapter near you? Join us! Our success depends on your participation.
The Youth Leaders for Climate Restoration program is re-launching with shiny new content.
Already, our Youth Leaders for Climate Restoration (YL4CR) program has touched young people in over 50 countries. The global nature of the program is an incredible asset to the climate restoration movement, but it presents unique challenges as well. In 2023, we're pausing to redesign the program in a way that is better suited to our participants, 90% of whom come from low-income countries. We will be adding structure to the program that enables everyone, including those with poor internet access, to participate fully and network with one another. Applications will open in the summer, so stay tuned!
---
Remember, this is just a sneak preview — there's more beyond these four highlights. As you might imagine, we can't wait to show you everything we're working on. While you wait for us to reach our next program milestones, ask yourself: How long has it been since I donated to F4CR? None of this work is free to create, although it is all free to access. Your financial support, along with your participation in our programs and events, is critical to our success. Thank you!